Sneaking Veggies
Into Your Kids' Meals
Pop into your local supermarket, and you'll find shelves teaming with creative ways to sneak vegetables into kids' meals. Veggie purees, pre-packaged soups, individual serves of pre-cut carrots and cheese: It's clear that grocery stores know how hard parents battle to get their children to eat vegetables every day – with varying levels of success! Fortunately, we've compiled these tips to help you encourage your little ones to add some more colour to their dinner plate.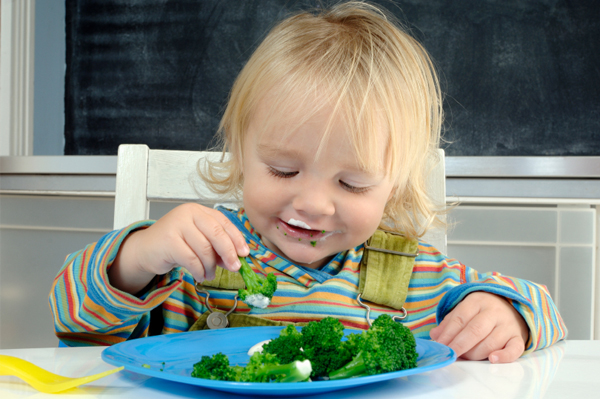 Make sure your veggies taste good. It sounds self explanatory, but sometimes we over-cook our vegetables until they're mushy and tasteless, which is not too appetising. Health fund AHM's nutritionst Catherine Saxelby recommends you cook them "until just firm, and finish with a splash of olive oil, or top with a little grated cheese."
Hide finely chopped or grated vegetables such as carrot, zucchini, potato and mushrooms in meals such as pasta/spaghetti sauce, meatloaf or lasagne.
Instead of regular mashed potatoes, make mashed sweet potatoes, whipped with a smear of butter and a little milk. The creamy consistency and sweet flavour is often a hit, and sweet potatoes contain loads of vitamin A.
Cook and puree "white" vegetables including cauliflower and peeled zucchini, and add them to a cheese sauce, served over meat. The kids won't even know they're there!
Encourage your kids to serve themselves. Set up the dinner table with colourful bowls of grilled capsicum, honey carrots, potato and pumpkin wedges and sautéed onion, corn and mushrooms. "This gives them a feeling of independence and allows them to choose how much they want," Saxelby says.
Offer veggies raw to children who are old enough (be careful with children younger than three years of age). Try crunchy celery sticks, cherry tomatoes – extra fun, because they explode in the mouth! – snow peas or even steamed asparagus. Offer a dipping sauce such as tomato, BBQ or mayonnaise for encouragement.
Set a good example. You need to practice what you preach, as there's no point encouraging your kids to eat veggies if they never see you eating them yourself. More importantly, "let the kids see both mum and dad enjoying vegetables and salads," Saxelby advises.
Plant a vegetable garden with your kids. It doesn't have to be a huge garden plot – even if it's just a small cherry tomato plant in a pot, it helps your children understand where vegetables come from and how they're grown. What's more, they'll be very excited to eat a vegetable that they themselves helped to grow!
MORE KIDS' HEALTH
6 Dental care items for kids
Prevent childhood obesity
Find a good paediatrician