Eat raw!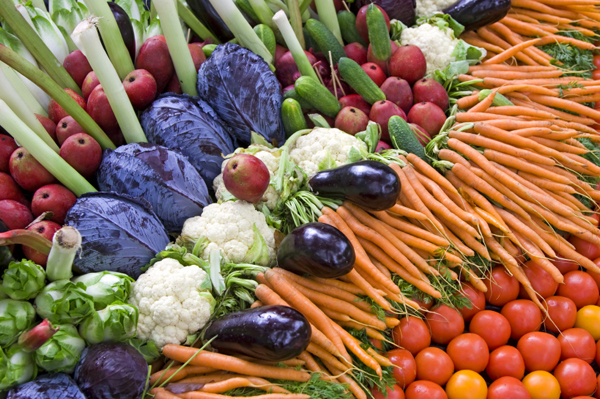 Whether it's to improve your health or to shed those last few pesky winter kilos, adding more raw food to your diet can help you look good and feel great, just in time for summer.
How to add more raw food to your diet
We all know that salads, fruit and vegetables are good for us... but do we really know why?
Research shows that heating some foods causes the destruction of valuable vitamins and enzymes necessary for good nutrition. Of particular interest is vitamin c, which is nearly completely destroyed by the cooking process, as are a number of enzymes that are useful in protecting against cancer cells.
Healthy (and youthful) celebrities, such as Demi Moore and Alicia Silverstone, have been promoting the benefits of a raw food diet for years. And with summer just around the corner, now is the perfect time to start adding more raw food to your diet.
What is raw food?
Put simply, raw food is any food that hasn't been processed or cooked above 46 degrees C. That means lots of fruit, vegetables, nuts, seeds, sprouts and seaweed. Many followers of the raw food diet also eat unprocessed dairy products as well as sashimi, as both of these foods offer essential fats and minerals that help maintain a healthy diet.
Simple steps to going raw
An easy way to start incorporating more raw food into your diet is to add a simple salad to any meal. Think of adding leafy greens, chopped vegetables, chunky salsa or a crunchy Asian salad to complement your main. Try to make the salad portion of your plate larger than the protein and carbohydrate portions and, before you know it, you'll be on your way towards becoming a fully-fledged "rawist".
But it's cold!
Eating a raw food diet doesn't mean all your food has to be cold. You can make raw food soups and stews by heating your ingredients very gently -- and don't forget, you can add a bit of heat to almost any food with chilli and pepper. Just make sure your food doesn't reach a temperature higher than 46 degrees C and you're good to go.
Best eaten raw
Numerous studies have been conducted on how the cooking process affects the food we eat. The results are complex as there are still many mysteries surrounding how different plant molecules interact with the human body.
However, research has shown that there are some foods that may be best eaten raw. Broccoli and carrots provide more benefits when eaten raw, as do foods containing vitamin c, such as strawberries, cherries, citrus fruits, dark leafy greens, cauliflower, capsicum and brussels sprouts.
All or nothing?
Don't think that you have to be 100 per cent raw to enjoy the benefits of a raw food diet. There are a bunch of ways you can enjoy being "raw" without sacrificing taste or altering your diet too much.
One of the best ways to eat more raw food is to start substituting raw food for some of your old favourites. Pasta on the menu? Swap the spaghetti out for shaved vegetables, such as carrot or zucchini, instead. Swap hot soups for blended vegetables or, if it's ice cream that you're craving, why not blend frozen banana and raw coconut for a sweet treat?
Super smooth
If you're short on time and chopping salad doesn't appeal to you, you can boost your raw food intake in an instant with a green smoothie. While they may not look all that appealing, green smoothies are packed full of raw food goodness and are tasty to boot. Simply blend one cup of spinach leaves with your choice of fresh fruits (oranges, bananas and strawberries work well) for an instant hit of essential vitamins, antioxidants, iron, calcium and folate.
While raw food certainly has its benefits, some foods are simply better for you when they are cooked. A fully raw diet may be hard to achieve and comparing the health benefits of raw and cooked food is a complicated science. However, if there's one thing most experts agree on, it's this: Eat your vegetables and eat some of them raw to get the most benefit for your body.
More on raw food
Guilt-free sweet treats
Food to make you look good
Healthy snack swaps