DIY Decorating Tips
Since the onset of the global financial crisis, home owners have had to become savvy with their finances, particularly when it comes to dishing out on large costs such as home improvements. But at SheKnows we know there is a cheaper way to redecorate your home. Here are some of our GFC friendly ideas.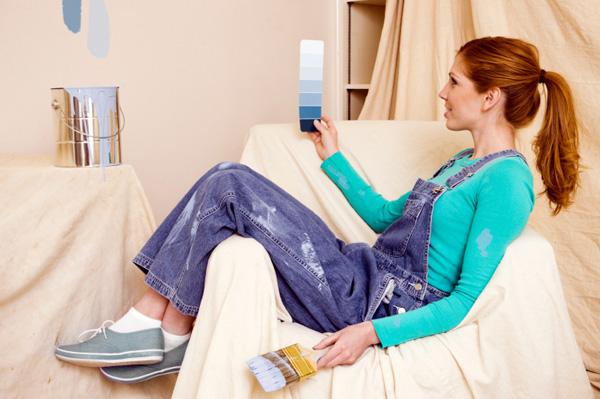 De-clutter
De-cluttering your house won't cost you a thing and yet it is a vital part of refurbishing your home. Use this time to visualise your restoration, make a wish list and draw up the plans. Anything in your home which does not fit into these plans should be thrown out, given to charity, or stored.
Paint
If you spend the time to DIY properly (cleaning and preparing all surfaces thoroughly) a good lick of paint can do wonders for your home, and, it can be very cost effective. Hit up the paint shop for some colour samples. Stick to one colour throughout the home, but add depth by varying the tones slightly from room to room (depending on its purpose and the amount of light it receives).
Update light fittings
Updating your light fitting will literally shed a whole new light on the features of your home (and highlight your new paint job nicely)! The simplest option here is down lights with energy saving globes. They're cheap (around $15 each) and they're aesthetically non-intrusive. Plan for the electrician's costs by obtaining a variety of quotes, and if it all gets too much, just stick to replacing the lights in the kitchen and lounge areas.
Upgrading your kitchen cabinets and drawers
Prioritising is the key here. Don't rip out the entire kitchen when you could keep the carcass and re-dress it with new cabinet doors and drawer faces. Costs here start from about $50 a piece. Resurfacing the existing cabinet doors and drawer fronts, and replacing your old handles, is an even cheaper option. Talk to your local paint expert about getting the right materials and the correct procedure for the job.
Replacing your splashback or bench top
Re-tiling your splashback can be as cheap as chips. If you're looking for a simple solution you can usually get away with spending under $100 on plain tiles from Bunnings, plus a few hundred dollars worth of labour. Seconds and spares outlets, auction houses and IKEA also have amazing options in regards to both splashbacks and bench tops which can be ordered to fit your space. Their installation costs can be expensive though, so consider using a handyman or DIY expert instead.
Blinds
Replacing your blinds and curtains can really give your windows a new lease on life. Once again stores like IKEA, Bunnings, Lincraft and Spotlight offer some of the cheapest options for DIY installation. Just make sure the colours match nicely with your home's new look.
Remodel and recycle
Now that you've given the more permanent fixtures in your home a face-lift, think about whether any of the items you have stored would suit the new space. Trialling them in different rooms will allow you to see them from another perspective. You can also utilise old materials to make funky new artworks (flick through art and home magazines for inspiration).
One person's trash is another treasure
Hit up the thrift shops, Vinnies, auctions, wholesalers and the weekend markets for a cheap way to find priceless pieces for your new look home. Be careful not to get carried away – keep your room measurements in mind and stick to one design theme in your home.
more on home decorate
Renovate your bathroom: 7 Steps to jazz up the powder room
Make your bathroom worth more
7 Tools every household needs