Grow It Up
Your kids may grow up, but that doesn't mean that the amount of space you have to work with in the the family playroom does! Here are some tips and tricks to help make your kids' space and playroom more age-appropriate as they get older.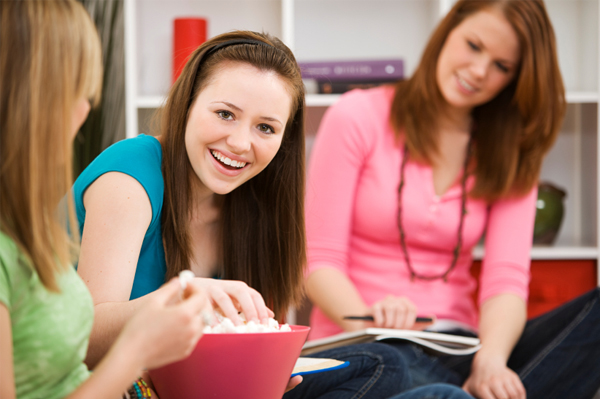 One word: systematise
Certified professional organiser Helene Segura advises parents to create designated spaces for everything in the room.
"Divide the room into zones: arts and crafts, toys, books, etc. It helps develop the ideas of categories, plus kids learn to concentrate on one project at a time," she says. "It builds up their attention spans and helps them remember where items need to be returned."
Make everything accessible
Segura also recommends organising by the child's eye level: "In general, the most used activities and objects should be kept at an easy-grasp height for the users," she says. "So a playroom for toddlers has items lower to the ground, while a playroom for teenagers needs storage higher up the wall. The specific organisation of the room depends on what activities need to happen there."
Keep your kids' development in mind
The playroom is an opportunity to encourage growth in all ages, says Teresa Signorelli, PhD, CCC-SLP, clinic director at Marymount Manhattan College.
"As a general rule, it's ideal for a playroom of a child of any age to have a range of items and activities that foster the pertinent areas of development. There are five areas of human development that mutually influence each other: physical, intellectual, social-emotional, emotional and moral," she advises.
Consider your furniture needs
Signorelli points out the importance of size-appropriate furniture. "Ideally, children should have their feet on the ground. If feet are dangling, children may spend energy balancing to stay in their chairs that could take away focus on the tasks at hand."
Upgrade according to their tastes
As your children outgrow their dolls and train tracks, transform their toy section into an area with older age-appropriate games and movies. For instance, teens may enjoy an indoor basketball hoop, darts, a pool table and beanbags to lounge in. If you want to entice the kids and their friends to hang out at your place, include a freestanding popcorn machine or a small bar fridge stocked with drinks -- they won't be able to resist!
Decorate appropriately
Interior designer Natalie Umbert always considers her clients' favorite colours, interests or activities before embarking on a room makeover.
"The key is to not go overboard or too thematic -- this should be a space they can grow into that shouldn't have to be drastically changed too often," she says.
"You can do a theme like baseball or cars, but do it tastefully with art, rugs, furniture or other accessories that can be swapped out as the child grows and his or her interests change."
Be creative
Umbert reminds parents to let creativity rule, which can mean allowing the children to help plan their space. "Treat a kids' room as its own entity," she says. "Remember, it doesn't need to fit into the general design scheme of your home."
Room design and decor
Teen bedroom design
See the fantastic makeover of a bedroom shared by two teenage sisters.