Essential Toolbox
Ladies, belt up! We're going to talk you through setting up your essential household toolbox so you're prepared next time you need to hang a pic, build some furniture or fix that wonky table.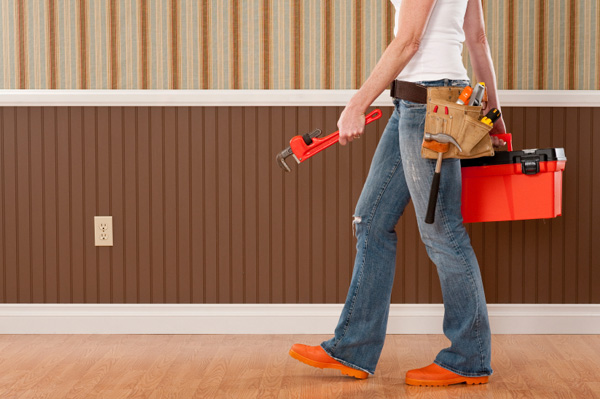 Whether you've decided it's time you scored your own tools or you're planning a housewarming gift for a friend, a sturdy toolbox full of the household essentials is a great idea for every home. It's wise to invest in quality products that will last you over the long term. Consider it a valuable home investment, as these seven tools should be able to complete most repair jobs around the house.
Forget waiting around for the man in your life to finish those projects for you; there's no reason why you can't slap on the tool belt and get to work yourself! Head to your local hardware store and look for the best quality items at the prices you can afford. And always make sure you keep your toolbox locked in a safe place away from children.
Hammer
The key player of your toolbox, a medium-weight hammer with a nail-puller at one end will come in very handy in your home. You can choose from all sorts of grips and colours, but the most important thing is that it feels comfortable to hold in your hand. Tip: Try rubbing the face of your hammer with a bit of sandpaper every so often -- it will make hammering nails a whole lot easier.
Tape measure
Think of all of those jobs that would have been completed to perfection if only your husband or partner had actually used a tape measure... Well, us ladies know how to pay attention to detail and we'd rather get a job done right than fast. A tape measure is a handy little member of your toolbox whether you're hanging hooks for photo frames, checking if that new chest of drawers will fit in your bedroom or planning new flooring. An easy-locking tape measure that fits in the palm of your hand should be suitable for most jobs. You can buy them in a whole bunch of fun colours too.
Screwdrivers
Consider buying a mixed set of screwdrivers that includes both flat heads and Phillips heads. A range of different sizes will help you through a wide range of jobs, from tasks as small as tightening the screws on your sunnies to larger projects like putting together new home furniture.
Nails and screws
Buy a mixed set of nails and screws in a few different sizes so you're set next time you need to hang a picture or make a hanger for your kitchen utensils.
Pliers
You'll find hundreds of different types of pliers available at your local hardware store, but one or two basic pliers should suffice. Needle-nose pliers are essential, and slip-joint pliers will come in handy too.
Wire cutters
Wire cutters will cut through many tough materials around the home and will save you ruining your household scissors in the process. They're handy for craft work, electrical wires and plastics.
Level
A level will make plenty of household jobs easier, like achieving perfection in that photo frame feature wall, installing new towel racks or checking if your table or flooring is running on an angle. You can choose wood, plastic or metal levels -- all work just as well, so make a decision based on what feels right for you.
home diy projects
DIY bunting for your home
DIY: Reupholster your furniture
Make your own cushions