How To Create A Modern Guest Bedroom
Experts say that guest rooms are often the last space in the house we get around to decorating, because they're the least used. But if you're sick of using your guest bedroom as a dumping ground for everything you own that doesn't have a proper place, it's high time you turned your attention to a bedroom make over.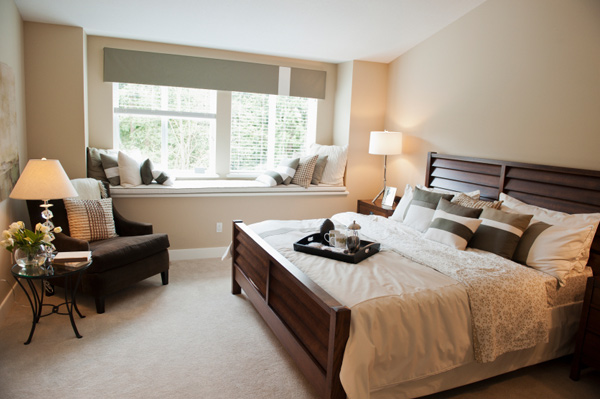 The easiest way to decorate your guest room is with bits and pieces you no longer use in your own bedroom — like the doona set you got as a wedding present five years ago, the cushions that no longer match your living room colour scheme, and the giant blue vase you loved many moons ago and don't have the heart to get rid of yet...
The result, however, can be mismatched décor that gives off a cluttered, hand-me-down vibe, which is not the message you usually want to send to guests. Follow our tips to make over your guest bedroom into a chic, warm space, and we guarantee your visiting friends and relatives will never want to leave.
Refresh your linens
We often hold onto doona covers and linen for years, if not decades, and for good reason: If they're good quality and have withstood the test of time, there's no need to throw them away. But if you want to update the look of your guest room without breaking your budget, investing in new, modern linen and bedding is the quickest way to go about it. Select one main colour and ensure it's reflected in the sheets, doona, pillows and throw cushions. Rich reds and berry pinks offer a vibrant pop of colour, or go with nudes, browns and creams if you want to create a neutral theme.
Update the curtains
Fresh curtains that match your primary colour scheme on the bed will tie the look of your guest bedroom together and give a cohesive, sleek aesthetic to the room. If you don't want to buy curtains in the same colour as your bed linen — in case you want to update the look in a few years' time — opt for plain, sheer window dressings in shades of white, cream or beige that let in lots of natural light. Be sure to get floor-length curtains, regardless of the size of the window: It gives the illusion of height and makes the window (or door) appear taller.
Paint the walls
According to www.homelife.com.au, one of the easiest ways to transform your spare room into an inviting guest bedroom is to spruce up the walls with a bold colour. "Light colours make small rooms appear more spacious and airy," they advise. Plain white walls can sometimes look too stark, so look to your colour scheme for inspiration: Soft mint, pale pink and dove grey can look beautiful and chic, without distracting from your bolder colour choices.
Declutter and personalise
Assess the furniture you have in the room so you can decide what is really necessary, and declutter where you can. For instance, freestanding wardrobes take up loads of space and they aren't exactly essential in a rarely-used guest bedroom. Also, to avoid having a room that looks like a hotel suite, be sure to add a few personal nik-nacks: Floating shelves installed at eye level can be used to display cute frames, books, figurines and clocks. An occasional chair and a couple of throw cushions can also add a pop of colour and will help to create a lived-in look.
MORE HOME DECOR
Creative decorating with paint
Decorating tips for shared bedrooms
Five ways to update your home - on the cheap!