Bloggers With Style
And Know-How
Modern living has a style like no other... from beach cottages to modern architecture. These bloggers take that style and incorporate their own creativity to share with their readers. Want some amazing style ideas? Check out these fabulous sites.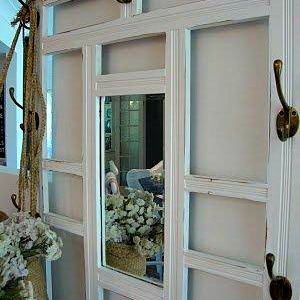 Sandy is the blogger on this beautiful blog that leaves us wanting to paint everything we own white. She is passionate about upcycling furniture and turning old or unused items into something spectacular. Her style is a mixture of rustic, beachy and shabby. With an incredible eye for detail, Sandy can turn almost any tired item into a new treasure. She worked magic with this old hallstand and gave it a second life.
This blog was started back in 2006 by Anna Spiro, owner of a unique shop in Brisbane called Black & Spiro. Anna blogs as a way to record her thoughts and inspirations, and her blog is full of beautiful images and ideas. She gathers interesting and colourful items from all around the globe for her shop, and is passionate about what she does. A post about her favourite corner in the shop makes us want to pay a visit very soon.
You may not have a baby in your home, but we dare you to check out this blog and not be enchanted. Bron Bates is the founder of Baby Space and uses it as an outlet for her life-long passion for interior design. Bron writes alongside Belinda and Nicole, both mums of wee ones with a similar passion for interior spaces. Check out this dreamy nursery where we would love to cuddle a baby.
Check this nursery checklist to see what you need >>
Sydney-based Jennifer French is an interior decorator and colour consultant who uses her blog as an outlet for everything dear to her -- renovations, art, interior decorating, design, inspiration -- it's all there. She works with many different clients who have various style preferences, making it more difficult to make decisions about her own home. The one thing she absolutely has to have in her own home is colour. Here she shares some great ideas about decorating with beaded chandeliers.
Who better to blog about home decorating and interiors than the author of a book titled How to Decorate? Shannon always seems to have so many exciting new projects going on, including a line of bedlinens. She is a well-known designer, television presenter and author who loves to share her passion for decorating. Her no-nonsense approach makes everyone feel that they can easily change their space. These beautiful quilt covers from her online shop would be a comforting addition to any bedroom.
Love the beach? You'll love Sarah's combination of coastal, cottage and country styles. She started her blog as a way to document the renovation of her fixer-upper beach cottage, and since then it has become an outlet for expressing her style. She loves using vintage items mixed with white for that relaxed, beachy vibe. Sarah shares her ideas and creativity and encourages her readers to re-use and re-purpose interesting and unique pieces they may find. The pretty pink colours in this post are a refreshing addition to the calming white interiors.
Carolyn McFarland, Shane Denman and Ed Ewers are the Australian architects who are Design Ambassadors for Light Home. Each month they choose a home project to highlight that they feel encompasses the ideals of a light home. The perfect light home is described on their site as.. "able to be open and breezy when it's warm and deeply shaded when it's hot, with sunny inside spaces and toasty temperatures when it's cold. Its visual style hints at our heritage, but it looks cutting-edge modern when it's called for and seamlessly subtle when the surroundings hold the stage. It's robust enough to endure almost anything nature dishes up, and it also touches lightly on the earth -- literally -- as well as lightly on your pocket." Check out this amazing light home on a small lot.
Simone and Jody have an amazing fabric studio down by the sea, where they sew and create some beautiful things. Inspired by vintage fabrics with bold colours and patterns, they love inspiring new creations. They also have an online fabric shop, where they carry designer fabrics, oilcloth and a stunning array of notions. We loved this project using pretty tea towels on chair cushions.
Melbourne set dresser and stylist Lucy Feagins started this blog in early 2008, and it quickly evolved to the daily design ideas site it is today. The Design Files has been featured in various publications, including Real Living Magazine, Design Quarterly and Inside Out Magazine. From Australian architecture to interiors and art, The Design Files covers it all -- and then some. We loved the boathouse photos in this post highlighting Top Australian homes.
Jules lives on a 2 1/2 acre plot -- Australian bush at the rear and suburbia in front. She uses her blog as a showcase for the renovations on their home and as a way to help her adjust to life in the bush. She has a no-nonsense approach to decorating, favouring country cottage design. Jules loves to be hands-on with her home renovations, and you find yourself cheering for each accomplishment along the way. This post about tearing out walls in her kitchen was fun to read.
Your turn
We have barely scratched the surface of amazing home and living bloggers in Australia. Who are your favourites? Add to our list in the comments section below.
More on design and style
Decorating tips for shared bedrooms
Ideas to make over a guest room
Redecorate your home on a budget