Home Office How-To
If you work from home but feel like you spend most of your day trying to find a pen or cleaning the kid's clutter from beneath your feet, it sounds like you need a serious work space overhaul. Follow these great ideas to organise your home office and keep it looking professional while also being user-friendly.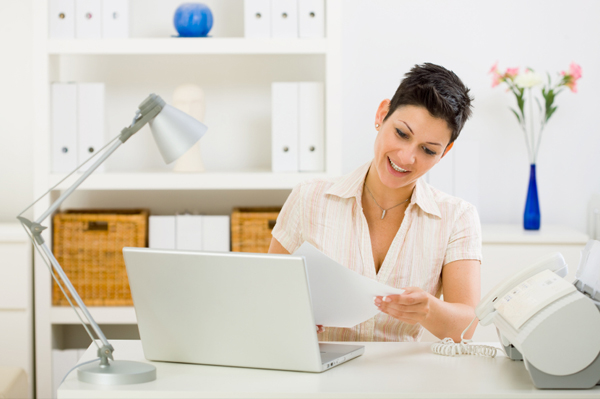 For those of us who are lucky enough to work from home, well, you're probably already aware that the dream is often far from the reality. No, we're not sitting at a spotless wooden desk with our latest-model computer, a vase full of pink lilies and a flawless filing system -- our workspace looks nothing like those chic home offices you may have seen in the pages of Vogue Living. In actual fact, it's more likely to be an old desk with a bad leg shoved into a free corner of your home, there are probably papers everywhere and Post-its covering every spare inch of surface space.
So how can we make the turnaround? Set aside a day, make a list and start transforming your home office so you can work more efficiently.
Form a pile
Grab everything that's not fixed down -- so we're talking loose papers, stationery, receipts, old catalogues, newspapers, etc. -- and form a pile in the middle of the room.
Keep or throw
Yep, you guessed it , now you have to go through everything and sort it all into "Keep" or "Throw" piles. Try your best not to get distracted by mags, newspapers and catalogues -- if they're old, chuck them straight into the recycling!
Active or archive
Now that you're left with a pile of things you want to keep, it's time to start organising. Starting with the papers, sort them into two main categories of "Active" or "Archive."
Your Active pile will include a few key sub-categories (keep in mind these will depend on your line of work):
Bills to pay
Outstanding invoices
Follow-up/to-do lists
Incoming mail
Your Archive pile will include:
Bills paid and processed
Tax invoices you've been paid for
Receipts
Extra notes on completed work
Tackle the drawers
Hopefully this purging of paper will have helped to declutter your space. Next, clean out your entire workspace, including drawers, shelves and cabinets. Repeat the Keep/Throw process above.
Find storage solutions
The time has come to find everything a home. Take a moment to look at your current home office space and see how much room you have to work with. Could your furniture sit in a different configuration to give you more space or to invite in more fresh air or natural light? What new items will you need to file your papers? You can save money by considering unique storage solutions and recycling old homeware items, such as:
Use old jars to store your stationery, such as pens and pencils. Tie a cute ribbon or scrap of fabric around the lid or glass to jazz it up.
If you have a nice old soap dish lying around, you can use it for knick-knack stationery items like rubber bands, paper clips and thumbtacks.
A piece of string and miniature pegs can work as a space-saving holder for your to-do list. So instead of covering your desk in Post-Its, simply tie the string above your desk and hang follow-up items or extra notes along it. Cut used paper that was on its way to the recycling bin into quarters, blank side up, and store a pile near your pegs.
An old wooden drawer can be a great way to store Active items, such as bills, invoices and mail. It looks better than a piled of loose papers and will ensure that they stay together in a neat pile.
Your Archive items can also be kept in neat cardboard boxes with lids, labelled and stored away in a cupboard. Check out IKEA or Officeworks for affordable products.
Maintain a filing system
Now that you've cleaned your space, it's important to keep your filing system in action. Ensure that only key stationery items and papers needed for your current project are on your desk. Deal with any papers at the time they come in and try to keep your filing system in order to avoid clutter building up. A clear, practical workspace will ensure your productivity remains at an all-time high! Now... go!
More home decor advice
Best Etsy roundup for your home
Ideas to make over a guest room
Spruce up your laundry room