Playroom Overhaul
Does your children's playroom look like a jumble of clutter? Toys scattered everywhere, clothes strewn over the floor, maybe even a few old plates and sandwich crusts? It's clearly time to plan a redesign. Try these easy ways to keep your children's toys and belongings organised, while still creating a room they'll love.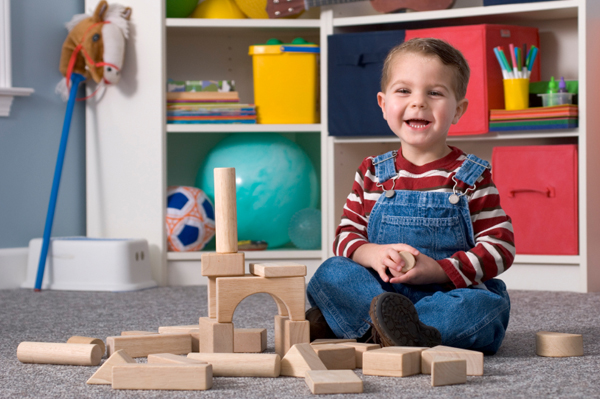 So you thought that by setting up a playroom you'd be able to solve the problem of your kids' mess by confining it to one small area... But now you realise all you've really done is move it all from the living room to a new room in the house? The same jumble of toys and books and clothes (not to mention snotty tissues and food scraps) are all still there for guests to see. Well, it might be time to give the playroom a design overhaul!
Your aim is to give every item a home so that your kids know that when they finish playing with something, it needs to go back to its "bed" for the night. Make your storage solutions cool and clever -- they need to be easy enough for the kids to throw their toys in (sealed boxes on high shelves, for example, will never work) and they also need to look great to keep in line with the aesthetics of the room. If you're on the hunt for new design/organisation ideas, try these great tips and tricks:
Rugs and mats
Cover the playroom floor with a rug that has cool pictures all over it so the kids will want to keep it clear, mess-free and visible. Mats with bird's eye view pictures of train tracks, streets, parks or towns are great for this purpose. Your kids can incorporate the mat into their play and run their trucks, cars and dolls along the pictures. It's a very clever way to encourage your kids to keep the floorspace clear and put their other toys away.
Modular shelving
Cube shelving is a great way to store books, CDs and knick-knacks while still keeping the playroom looking quirky and fun. You can even fill some shelves with smaller, stackable boxes and containers to double your storage space.
Mobile storage
Large plastic boxes on wheels are perfect for storing durable toys and sports equipment. They're also stackable, so you can keep things you don't need immediate access to (like out-of-season clothes) in the lower boxes.
Suitable seating
If you've got a small playspace, you might want to consider more space-saving seating ideas, such as bean bags or stools, rather than bulky couches or armchairs.
Vertical storage
Shoe bags are fantastic for offering plenty of storage area without taking up too much horizontal space. Hang them in cupboards or from hooks on the wall.
In the zone
It's also a good idea to establish certain zones or areas within the playroom for different activities. For example, the pile of beanbags could be a space dedicated to quiet reading time, while another corner of the room could be for playing louder games. This should also help to keep the toys in neater, closer piles, rather than strewn all over the room.
More home decor ideas
Organise your home office
DIY: Reupholster your furniture
DIY: Record clock