Don't Let Flowers Have All The Fun This Spring
It's time to let go of the winter blues and get outside to some of Australia's best spring floral festivals!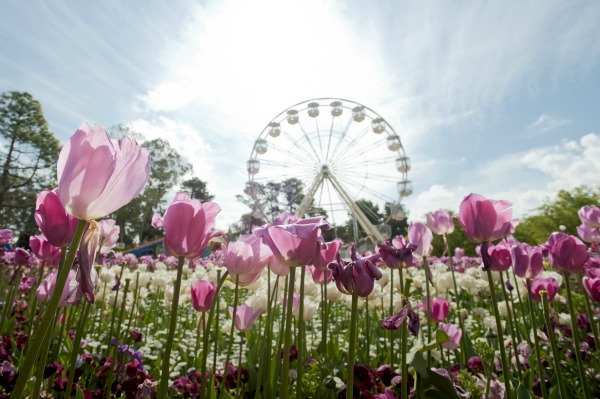 ACT: Floriade
The design team behind Canberra's famous spring festival, Floriade, is taking a fashionable turn this year, with the theme of Style & Design.
Running from 15 September to 14 October, some of Australia's fashion and home style personalities will be showcasing their handiwork from fashion shows to DIY workshops, including the likes of Leona Edmiston, Floriade's 2012 Ambassador.
The Floriade team says visitors can "admire the endless possibilities of floral design and see the stunning display of creativity and colour when fashion and flowers come together".
NSW: Bowral Tulip Time Festival
Running from 18 September to 1 October, the beautiful Southern Highlands town is turning it on once again for spring.
Tulip Time is jam-packed with events showcasing food, flowers and crafts. Don't miss events like the Food & Wine Fair, High Tea, the Great Bulb Dig Up and the "Life is Fun" Street Parade. Money raised at this event goes to the local LifeLine.
QLD: Toowomba Carnival of Flowers
If you're up north this September you must make sure you drop into the Toowomba Carnival of Flowers for your floral fix. The coordinators have "stuck to their roots" this season and have picked a more natural theme.
"This year, the Gallery Space will feature an exhibition of works created to the theme of natural architecture. The 'natural architecture' movement aims to create a more harmonious relationship between man and nature by exploring what it means to design with nature in mind," they said.
If you or anyone you're taking isn't into flowers, don't fret. The team has tried to make this more of a carnival experience than just about blooms. There are activites and attractions for kids, wine appreciation sessions, live music and live cooking demonstrations of "farm to plate" ideas by Better Homes and Gardens's Fast Ed.
VIC: The Bright Spring Festival
If nature truly is your thing, then there is no better place to get your green thumb out than at The Bright Spring Festival. The green backdrop dotted with blooms is magical.
The gateway to three wine regions, you're sure to sample delicious vino while strolling the paths of trees, buds and blooms.
TAS: Bloomin' Tulips Festival
For three weeks in Septmber through to early October, Waratah-Wynyard hosts their annual celebration of the beloved tulip with the Bloomin' Tulips Festival.
Of course you can tour gardens and tulip farms, but the real point of difference with this celebration is the cocktail party and Mayoral Ball -- oh la la la!
Image courtesy of Floriade Australia.
More home and gardening
How to shabby-chic a dining table chair
Garden tips for beginners
Five ways to kick-start a container garden