DIY Project: Make
Your Own Cat Tree
If your feisty feline needs an outlet to expend some energy during the day while you're at work, a cat tree is the perfect solution. But why waste your hard earned cash on a store-bought version, when you can make one yourself for around $20?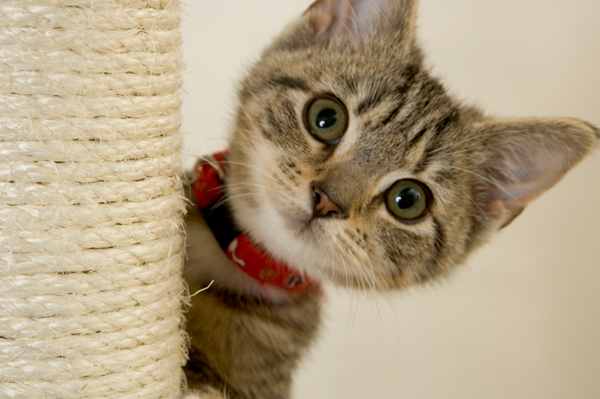 Cat trees are commonly known as scratching posts, but they're good for so much more than that! Your precious kitty can scratch, climb, interact and claw their way around their own personal structure, while also having their own special place to perch and view their "territory"
Best of all, it can help to put an end to your cat using your furniture, curtains and carpets as if they are their own personal scratching posts.
Investing in a store-bought cat tree can chew through over $100, depending on the quality and materials. Even if your carpentry skills are limited, this simple DIY guide should give you all the information and advice you need to create a structure you – and your cat – will be proud of.
Materials:
You'll need to head to Bunnings, Spotlight or your local hardware and/or craft store to stock up on materials and tools. You'll need:
One carpet tube (you should be able to pick up one for free from a carpet retailer)
One sheet of plywood
2 metres of fake fur
30 metre lengths of jute rope
Nails, wood glue
Circular saw, to cut tubes and plywood
Finish nailer, to nail boards together or screw gun and screws
4-inch hole saw
Step-by-step guide:
Create a plywood base of around 60 centimetres x 60 centimetres and four platforms of various sizes, depending on how large you want them to be.
Cover the base and two platforms with fake fur
Cut the carpet tube into eight sections of various lengths, ensuring that you have four pairs of similar lengths.
Cut several round pieces of plywood in the correct size to fit inside each tube. This is so you can attach the tubes to the base and platforms.
Attach the rounds inside the tubes with wood glue.
Nail or screw four tubes onto the base with nails or screws at an angle. Ideally, these should be two short tubes and two high tubes, so you can create two platforms at different heights.
Attach fake fur to the tubes that are attached to the base.
Nail one platform into place on top of each pair of tubes.
Use the remaining four tubes to create two more pairs of columns. Nail in place and cover each tube with jute rope, using wood glue to attach.
Nail the final two platforms to the top of the remaining tubes. Attach a few kitty toys if you like, or leave as is for a simple and effective cat tree that your kitty companion is sure to enjoy for years to come.
MORE CATS
10 things to know before getting a cat
5 Tips to prevent cat hairballs
Cool products to help your pet stay cool this summer