Let Little Chefs
Treat Their Mum!
Mother's Day is the perfect time to let kids take charge in the kitchen! They can show mum how much they love her, and who doesn't love breakfast in bed? Keep reading for three quick and easy breakfast ideas that are easy on clean-up too.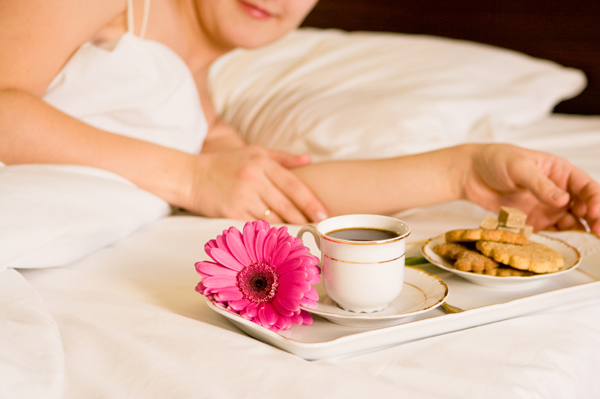 Let mum stay in bed this Mother's Day morning while the rest of the family makes her a delicious breakfast! Make sure that the kitchen clean-up is part of the deal so mum gets a real break on her special day. You can ask her ahead of time which of these three dishes she would enjoy, or surprise her.
Kids can make a handmade menu for mum to read while she is waiting, including special comments about what they love about her. An adult or older child can help with carrying the tray to her room, so that little ones don't worry about dropping anything. Pretty flowers – either real or made from paper – are a lovely addition to the breakfast tray.
French toast bake
Does your mum love French toast? This recipe is easy enough for kids to make with minimal supervision, and most of the preparation is done the day before. Serve it with powdered sugar and some sliced fruit on a tray for a fancy start to mum's day.
Bacon and eggs to-go
There is nothing like the smell of bacon and eggs when you wake up in the morning. These bacon and egg cups couldn't be easier to make, and you can cook the eggs to the desired consistency mum likes best. Serve with some sliced fruit and a piece of toast on the side, and her day will be off to a great start.
Read about another holiday you can serve breakfast in bed >>
Monkey bread
What about a breakfast idea that's almost as fun to say as it is to eat? Monkey bread (or pull-apart bread) can be made with refrigerated bread dough for an easy breakfast treat. With brown sugar and cinnamon, the smell of this alone would start mum's day off right.
With a little bit of planning ahead, your kids can make Mother's Day breakfast a special one for their mum.
Read more Mother's Day ideas
3 Cute ideas for handmade Mother's Day cards
Cool gift ideas for Mother's Day
3 Simple Mother's Day gifts