Resigning from your job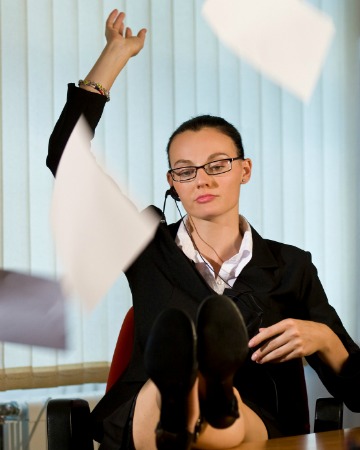 How to Quit with care
If you're ready to quit your job, but want to stay in the good books with your boss and colleagues, try these easy tips to resign without the bad feelings. Win-win!
If the time has come to quit your job, it's definitely worth taking a moment to read up on the etiquette of the process. While everyone will of course go about it in their own individual way, there are some key dos and don'ts that should be followed.
Read on to find out what you should -- and shouldn't -- do to avoid burning bridges and to stay on good terms with your employer, colleagues and the company. You never know when you might need a reference or recommendation, or might simply bump into your ex-co-workers at future industry events. Ease the tension and avoid the awkwardness with these basic tips.
Practise discretion
Just because you've made the decision to leave the company, it doesn't mean it's time to start talking openly about it just yet. Show some respect and inform your superiors about your resignation before discussing the matter with your colleagues. Office gossip spreads fast, and having your boss know about your pending resignation before you've had the chance to tell him or her yourself is not a good move. Ask if you can have a quick chat in private and ensure you resign face-to-face away from your colleagues.
Be prepared
Rehearse what you'd like to say to your boss before you resign. Think of all of the reasons why you're quitting so you can state your opinion articulately without getting flustered. Speak quietly and clearly, avoid getting emotional and highlight the positives of your experience with the company and what you have learnt. Have your resignation letter on hand and ready to go. Consider the possibility of your boss coming back to you with a counter-offer, such as a pay rise, a promotion or fewer contact hours, and work out what you would and wouldn't accept.
Be reasonable
Play fair and discuss your end date and exit processes with your supervisors to ensure that all parties are satisfied with the outcome. Leaving them high and dry without a replacement won't do you any favours, nor will refusing to train and hand over your work to someone else. Give adequate notice to help the change flow as smoothly as possible.
Don't gossip
Always ensure you keep your mouth zipped when your colleagues press you for more information about why you want to leave a job. This is not the time to be gossiping about co-workers or complaining about processes -- save any problems you have with the company for your exit interview.
Don't get lazy
Keep in mind that even after the formalities of resigning are out of the way, it's not the time to start slacking off. You're still employed by the company, so don't act as though you've already left!
More career advice
How to complete a tax return
Are you ready for a career change?
Does Facebook affect your employment?