Water-Bound Adventure In The Cooler Months
The colder times need not restrict you from water fun. In fact, there are a whole gamut of winter-time water wonders, from the fun of jet skiing to the wonder of free-diving in the Great Barrier Reef. All are adventurous. All offer a much-needed break.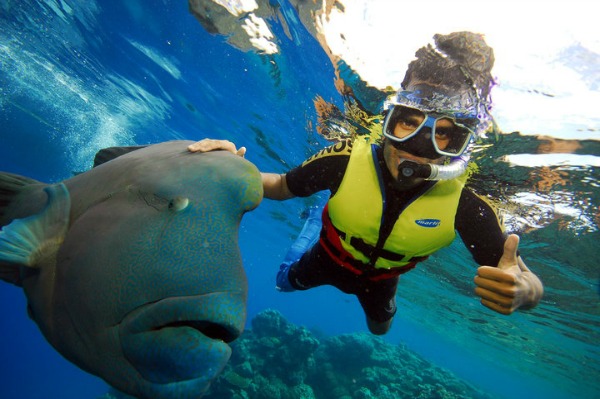 In the summer months it is simple to enjoy the water worlds of Australia. When winter comes around, however, there are still more than a few watery wonders on offer.
Free-diving the Great Barrier Reef
Even though it is cold, that does not mean all of Australia's waters are off-limits -- far from it! A solution is in the north-east, and it is one of the wonders of the world: the Great Barrier Reef.
Exploring the 344,400 square kilometres of reefs and islands can be done the traditional way: scuba diving and snorkelling. Then there is free-diving, a more unique method.
The sport involves going beneath the waves with only some flippers (if that). The diver skirts the ocean's bed, finding fish shoals and exploring the curves and colours of under-sea cliffs and reef beds, before rising again to the surface. It is similar to scuba diving but without the impediments of the breathing apparatus.
The sport mixes mesmerising sights with a meditative effect, and feels similar to flying.
Like any good adventure, free-diving is not perfectly safe. Never go out alone, and do your homework before dipping beneath your first wave.
Free-dive operators are rare, but Wavelength, located in Port Douglas, provides tours tailored to snorkelers and free divers.
The traditional options remain. Look for Reef Trip, Diving Cairns, Dive Australia, and DiveTheReef if you want to simply snorkel or scuba dive.
The splash and tumble of jet-skiing
Jet skiing is simply pure fun. It encompasses all the beauty and reinvigoration of water play, with the adrenalin and excitement of a fast, nimble vehicle. It has been described as akin to riding a motorbike with one big difference: When you come off you simply splash into the water.
During the winter months jet skis allow you to enjoy beautiful expanses of water without too many worries about the cold. Simply, you're rarely in the drink.
Many, however, consider them noisy, pesky little things, so it can be hard to find places to go riding in Australia. Yet they do exist.
In New South Wales there are a few options. Nelson Bay Jet Ski Hire, in Port Stephens, provides single and double seater jet skis. Meanwhile, Southern Water Sports in Batehaven also leases the craft.
In Victoria Adrenalin Water Sports hires out the vessels, while Gold Coast Jet Ski Tours offer a range of jet ski tours, often with an exploratory element thrown in (visiting Russell Island and North Stradbroke Island).
Of course, be careful. Jet skis are not slow, and fun can change to something else quickly.
Hobie Catting Balinese archipelagoes
Certainly, the most certain way to enjoy water adventures in the cooler Australian months is to simply, well, leave Australia. Replace its cooler seas for warmer, tropical climes.
With that plan certified, add a second element: the Hobie Cat.
Small, twin hulled sailing boats with a mesh for a deck, Hobie Cats generally support one to two people. Though not too difficult to sail, beginners will likely enjoy the help of an experienced skipper.
The experience of sailing this vessel is exhilarating. A rigging of ropes holds you in place as you lean over the ship's edge, with the sea skimming past just a metre below. The wind tears you across the ocean's surface. The islands of an archipelago come into focus, hold for a moment, and then disappear into your past.
Bali is a choice destination to venture into the world of Hobie Catting. Blue Oasis Beach Club on Sanur Beach, and Amankila Resort overlooking the Lombok Strait both offer lessons, boat hire and optional skipper.
Life jackets are a must. Never accept excuses to the contrary.
Image credit: By I.DeSouza (Own work) [CC-BY-3.0], via Wikimedia Commons
More travel tips
Save money when travelling
Best surf spots in Australia
Best holidays close to home