Flying High With
Your Little One In Tow
When you bring your new baby home from hospital, the idea of making it out the front door is challenging enough, let alone taking an extended plane journey. However, if you have plans to take flight with your little one, you're in luck, as we've compiled tips and advice from those in the know: parents who have successfully made the journey in one piece!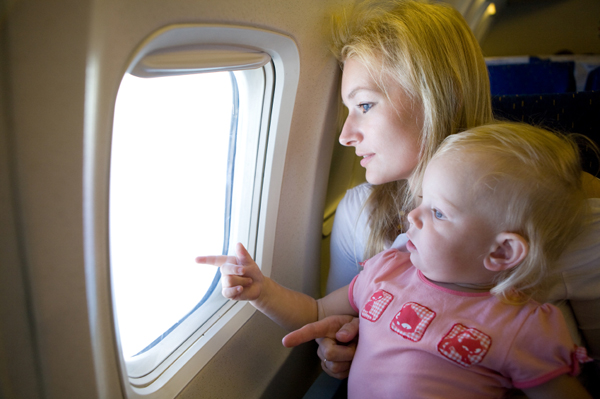 Preparation is the key
For some parents, the idea of flying with their baby in tow is anxiety inducing on its own. Make it a long-haul flight or throw in some stroppy fellow passengers, and the journey goes from bad to worse. But, as with many things in life — like baking a delicious moist cake, or painting a bright new feature wall — the key to success lies in careful preparation.
So says mother of three Andy, who is so accustomed to travelling with her children from Australia to far-flung destinations across the globe that she created a blog all about this very topic.
"The key to having a bearable experience is in the planning and preparation of your trip," she says.
"Choosing the right airline and flight, packing the appropriate equipment and clothing — without over packing — and adopting an attitude of 'expect the worst and hope for the best' will help you survive the journey."
One of the most frequently asked questions Andy fields about travelling with an infant is, "What is the best time to fly?" Although she would love to provide a definitive answer, Andy says there is no ideal time to fly that suits all babies.
"There are lots of differing opinions on this matter, and I believe that it really depends not only on the age of your child, but also on [their] sleeping habits," she says.
Pros and cons for flying at night
Night flights are often preferred, because your baby is more likely to sleep.
Just keep in mind that if they don't sleep, it means you won't either — which equals an overtired mum and baby the next day.
If your little one decides to be a night owl, it can be more stressful trying to keep your baby quiet while other passengers are trying to sleep.
Night flights generally mean that you'll arrive early the next morning, and you'll then have to stay awake to combat the effects of jet lag.
An alternative for shorter flights is to schedule your journey for when your infant generally naps during the day.
When your infant is a little older, travelling at night may be the better option, as they're more likely to be settled into sleep routines where they're sleeping through the night.
Of more consequence is keeping them entertained when they're awake, says mother of two boys, Jenny. She has a hot tip for those who are travelling with older children: "It's always a good idea to have some new toys or books to bring out at stressful or boring parts of the trip," she says. "If you wrap up a new toy up they will be entertained trying to unwrap it for a while, too."
Other tips for flying with your baby
Don't forget a passport for your baby — your children can no longer fly on their parents' passport so they will need their own travel documents.
Check any restrictions with the airline — most carriers accept travellers with babies who are at least seven days old, although other restrictions may apply if your baby was born premature or you had a caesarean section.
Aim to arrive at the airport early; getting there late will only add to your stress.
Call the airline prior to departure and request a seat with a bassinet.
Although you should aim to pack light, it's always a good idea to take more diapers, clothes and snacks than you think you'll need — plus plastic bags to store dirty nappies and soiled clothes.
More travel tips
Tropical getaways for couples
Saving money when travelling
Best solo female holiday ideas