A Wardrobe Update For Warmer Weather
Increasing heat and humidity can only mean one thing -- it's time to clean out your wardrobe and stock it with some fresh summer fashions.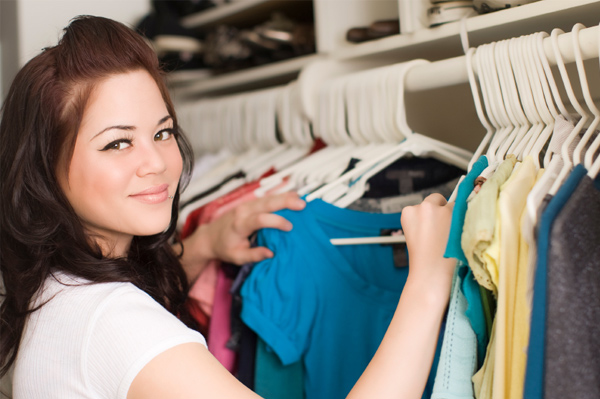 Find what's working
Before you buy a completely new summer wardrobe, take a full assessment of what you already have. Clear out everything that looks worn, pack away things you won't wear for a while, and get rid of items that you haven't worn in years. While you revisit the ghosts of clothing past, look for items that may not be ready-to-wear but still have potential. Some worn items may be in perfect condition to go shabby chic. Cover holes with stylish patches and hem freyed jacket sleeves, taking them from full to 3/4 length. Glam it up by adding studding or beading -- though less is still more when it comes to bedazzling your evening wear.
Repair what's worth saving
Before you pack your winter clothes away, determine what items might be worth putting a little extra effort towards saving. Expensive, cashmere sweaters can be sent out for darning. Broken, high-end shoes should be sent to a cobbler. Leather goods can also go out for repair. Don't write off an item that you love just because it may need more help than you can give on your own. Taking care of these save-worthy clothes now will save you lots of time when the weather changes in autumn and you find yourself in need and possibly unprepared for the end of summer.
Bring your wardrobe up-to-date
Once you have a clear picture of what summer clothing you have available in your wardrobe, then it's time to have a ball picking out new pieces for the year. Look for three to five inexpensive and on-trend items that you can wear all summer and are likely to still be in vogue next season. Make at least one of the items a chunky necklace or accessory that you can have fun with and choose a strappy or strapless dress that shines at any evening occassion -- it could be a girl's night out, first date or cocktail party. Pick up a new swimsuit that will help you feel confident and sexy when you hit the beach or the pool with friends. Finally, stock your wardrobe with a minimum of two new t-shirts or blouses (preferably solid colours) that you can wear when you want to rock the clean and casual look.
Share with us!
What's your favourite summer style splurge? Leave us a comment below!
More spring-to-summer tips
Best spring-to-summer workout clothes
Tone up your arms for tank top season
Best tone-up exercises to get summer ready