Indoor Activities
With population density rising and more young families living in inner-city suburbs, many kids are now growing up in smaller units with no backyard to play in. But this doesn't mean they have to miss out. Check out these fantastic activities for indoor play to keep your kids busy and happy.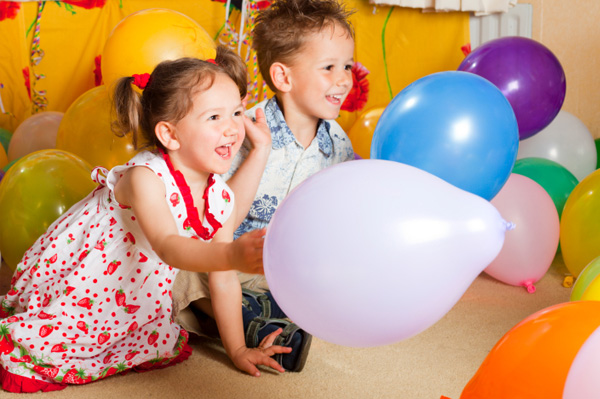 Maybe your kids don't have a park nearby or maybe it's a horribly rainy day and they're stuck inside! Whatever the reason, spending the day indoors doesn't have to mean tears and boredom. Try these great ideas to keep the little rascals entertained all day long.
DIY snap
Snap is a game that everyone loves! Encourage your kids to get crafty and make their own version: Not only will they be more attached to the end result, but the creative process will keep them busy for longer.
They'll literally spend hours drawing and decorating their cards. If they're at reading age, a fun twist is to have one card with the name of the object, person or thing written on it, and the second card with the picture. Experiment with people or places that are relevant to them, such as their dad, grandma or school. (They'll especially love drawing these!) If they're a bit older, you can also get educational with pictures of famous places around the world (e.g. the Egyptian pyramids or Big Ben).
Balloon games
Time for them to burn off a little energy? Blow up a bunch of balloons -- keep a very close eye on small children, as balloons can be a serious hazard -- and try a few fun games like balancing balloons on their heads while walking across the room or seeing how many balloons they can keep up in the air at one time.
Mr. Grasshead
Growing up in the inner city might mean that your children don't have an opportunity to have pets. A fun alternative is to grow one themselves!
They'll need:
One leg of an old stocking
Saw dust, sand or soil
Some seeds — herbs, grass or you could even try flowers
Rubber bands
Googly eyes
Red felt pen
Shallow bowl, cup or old yoghurt container
To make their quirky Mr. Grasshead, simply throw a bunch of seeds in the foot end of the stocking, add the saw dust, sand or soil, and secure it with a rubber band. Chop off the excess stocking, leaving a little bit of tail.
Next, make a nose by pulling out some of the fabric and filling and tying with a rubber band to form a bubble in the front-centre of the stocking.
Glue some googly eyes above the nose and draw a mouth.
Sit Mr. Grasshead in a small bowl or cup filled with 3/4 water, making sure his tail extends down into the water. Now sit back and watch his hair grow!
Arcade games
They can also try setting up their own games arcade. Make a ball toss by lining up a row of old, empty ice-cream containers and marking a point a metre or so away for the competitors to stand. Each child gets a few goes to throw ping-pong balls into the container and they score a point for each time the ball lands in the container. (Even if it bounces out again, it still counts as a point!)
Homemade pinball
Using the same ping-pong balls, you can make your own game of pinball. Grab a large cardboard box and cut a few circular holes at random points in the bottom, just big enough for the ball to fall through. The object of the game is to get the ball from one side to the other without letting it fall through the holes.
Quiet time
There are plenty of other quieter games your kids can play on the carpet or at the table when you need a break from all the craziness and excitement. Get them interested in board games, card games, bingo or dominoes. You can also give marbles or knuckles a go if you have a set lying around the house.
More indoor activities for kids
Rainy weather activities for kids and stay-at-home mums
Best after-school activities for autumn
Easy meals the kids can help you make