Kids Vs. Car Trips
"Muuuum, I'm boooooored!" Heard this before? While it might sound like your worst nightmare on repeat, long car trips with kids don't have to be holiday spoilers. Get to your destination safely and happily with these great ideas for keeping kids entertained on roadtrips.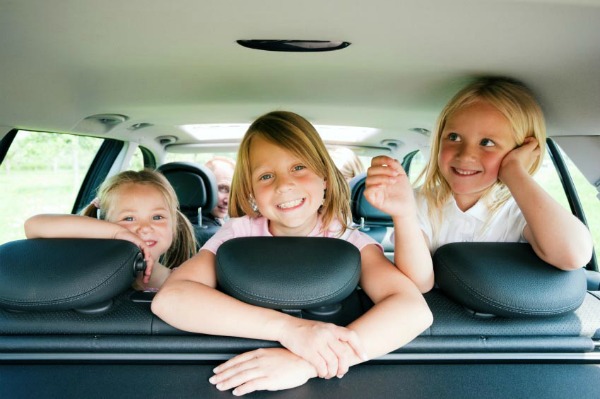 Kids, a five-hour car ride and a short fuse. It sounds like a recipe for disaster! While travelling with one child can be testing enough, travel with two or more and you'll discover a new cause of road rage. The best way to prevent them from bickering in the back seat or starting a particularly painful rendition of "This is the Song That Never Ends" is to keep them busy. Follow these strategies to help get you to your destination with your patience intact — hey, it might even turn out to be a fun adventure!
Mum's roadtrip toolkit
Healthy snack packs that are low in sugar to prevent excitable kids going batty in the back seat. Include a range of fresh fruit, trail mix and sesame bars.
Several drink bottles filled with fresh water. Depending on how much luggage you have, it would be great to fit an esky in the back of the car to keep everything cold.
An emergency first aid kit.
A range of iPod playlists or CDs to suit everyone's tastes.
An iPad and a selection of videos. (Or is that cheating?!)
Magazines or books for quiet time. You could also bring a few books along to read aloud to small children.
Colouring-in books, plain paper, pencils and erasers.
Crossword puzzles.
Mini travel board games with magnets so the pieces don't get lost in the car.
Soft toys. Take ones that are easy to hold onto so your toddler won't drop them on the ground every five minutes — or at least some that are large enough so you can reach them from the front seat.
Top tips
Make a map of your route and encourage your child to mark off towns as you pass through them. You could also plan ahead and research the interesting tourist attractions along the way to give your kids something to look forward to. Even planning lunch breaks can be super exciting when you've been stuck in the car for hours!
Start family sing-alongs. While older kids might respond with a roll of the eyes, little ones will love it. You could even use the drive as an opportunity to teach them old songs from your childhood — make a fun lyrics booklet they can decorate if you think it will help boost the enthusiasm!
Work out a roster so everyone gets a turn to play DJ for an hour. (Make sure you pack headphones and iPods for those who really can't handle their sibling's music for that long!)
Ensure you have regular pit stops to stretch the legs and get some fresh air.
Games to play
Everyone's old favourite, "I Spy!"
The memory game "Grandma Went to Market and She Bought..." Each player adds a new item so the list keeps growing and each player has to recite all of items that came before.
Play bingo with licence plates, where the aim is to find all letters of the alphabet. (And no, double-ups don't earn extra points!)
The first to count a certain number of same-coloured vehicles wins a prize, e.g. the first to count 20 green cars.
The alphabet game where everyone has to look for something beginning with the letter A, then B, and so on.
Safe travels!
More weekend fun for kids
4 Weekend activities for families
Best winter weekend activity ideas
Family game night ideas