Dad's Bonding Tips
Thanks to pregnancy, labour and breastfeeding, mothers tend to experience an instant and profound connection with their baby. For fathers, however, sometimes it can take a little longer for them to relax and feel comfortable with their newborn child. Here are some top tips to help dad develop an equally vital connection.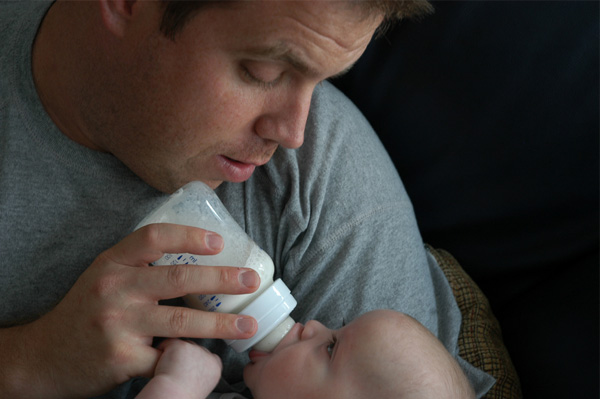 While you're preoccupied and gazing at your baby through rose-tinted glasses, it's important to remember that your partner needs the chance to develop that connection too. He may feel completely underqualified to take on such a responsible role but by giving him a little time and space, he'll build that confidence and fill the role like you know he can. Here are a few ways to help the relationship along.
Pregnancy bonding
All mothers know that the bond you feel with your baby starts the second you find out you're pregnant. Dads should also take those nine months to start building a connection by chatting, singing and playing music to their baby. Involving your partner in all of the decisions from room decorating to the labour process will also help them to feel a part of things.
Through the birth
Many dads comment that they feel absolutely useless during their wife's labour, but us women know that their role is almost as important as the doctor's. We need support and encouragement, and we seek it from our partners during labour. By offering support and staying close, new dads can help us to stay calm, which has an obvious effect on our newborn's health and wellbeing.
Skin-to-skin contact
A study by Swedish researchers published in the journal Birth: Issues in Perinatal Care showed that a father having skin-to-skin contact with his baby immediately after a Caesarean birth offered the same calming and comforting benefits to the child as a mother having the same contact. Encourage your partner to hold your baby close to his shirtless chest after birth to help father and child develop a close bond.
Stay up-to-date on baby's routine
If you're a stay-at-home mum, you'll know absolutely everything about your baby — from what time they last cried to how long they'll probably sleep for tonight. Keeping your husband involved in the everyday things like sleep times and general health will help him to feel deeply involved in your new baby's life, even if he has to spend eight hours a day away at the office.
One-on-one time
Have you found yourself hovering over your husband and baby and never letting your partner have alone time with your newborn? Give them the space to develop their own unique connection. Your husband may feel like he's under scrutiny or "not doing things right" when you're around watching him, whereas if he's given a chance to take care of bub by himself, he'll build confidence and realise that he's perfectly capable. This will also give you a great excuse to head out for a quick walk around the block, take a nap or read a book in the bath, so enjoy your time and let them enjoy theirs!
More advice for dads
5 Easy meals dad can make with the kids
Pros and cons of having your spouse stay at home
Stay-at-home dads: The new reality?