Inside Activities
So Mother Nature is unleashing the rain and you and your kids are stuck inside again. Keep the spirits up and the enthusiasm at a high with these fun rainy day activities!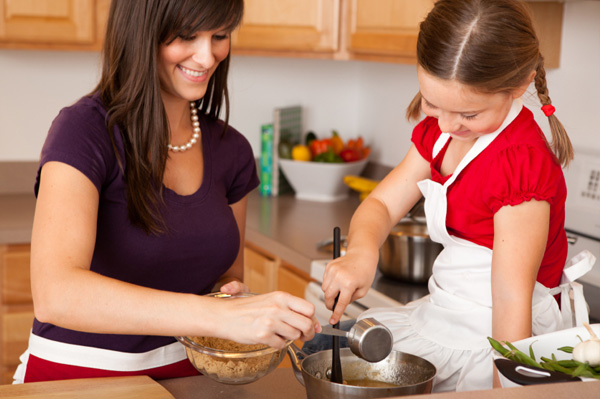 For kids
Get the chef's hat on: Kids love experimenting in the kitchen, so get the aprons on and flick through some recipe books or online (ahem, Easy meals kids can help make) to find some delicious recipes to warm the family up on a cold day. They'll especially love decorating cupcakes and gingerbread men.
Have a tea party: Now those treats you baked have to be put to good use! Your girls will love decorating the table and sharing treats and juice with their dolls at a good old-fashioned tea party.
Go camping: If your camping holiday plans have been ruined by wet weather, set up a small tent in the living room, playroom or the kids' bedrooms. If you don't have much space, even a few blankets over the dining room table will do! Pop a mattress, blankets and pillows inside and have a campout. Throw a rug down in the living room and enjoy your "campfire" meals picnic-style!
Set up an obstacle course: Have fun designing an obstacle course through the whole house and then have competitions to see who can get through it first. Encourage the kids to climb under chairs, hop over piles of pillows and wriggle through the living room. Think of some healthy treats or fun rewards for prizes!
Make your own: Depending on the age of your child, you could draw up templates for find-a-word or crosswords and they could craft their own games, then swap with each other or with you.
Make cards: Think about the family, friends and teachers who would love a hand-written card from your child. They can take their time decorating and drawing on the front, then write a sweet "thinking of you" message inside.
Decorate: If your child's been nagging you for a bedroom makeover for months, today could be the day to start planning. Go through all clothes and toys, and decide what stays, what goes to charity and what goes straight to the bin. Flick through magazines or browse online to find some great decorating ideas -- or find them right here.
Puddle stomping: If you've got the right wet weather gear, take the opportunity to go jumping in the puddles -- your kids will love it!
Check out rainy day activities for stay-at-home mums on the next page >>