Everybody Gets Moving! Playful Family Fitness
Who says workouts have to be work? Play with your kids; dance, rock and roll to family fitness!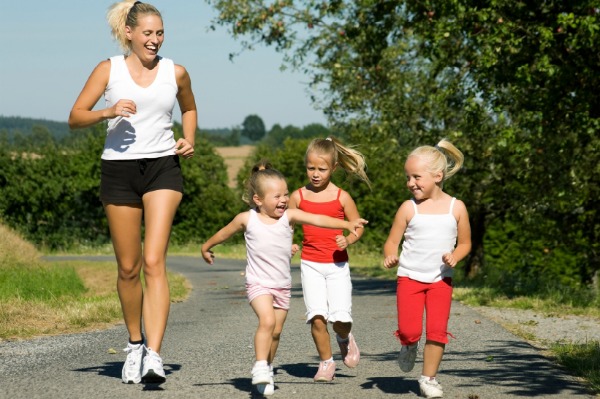 If you're a parent of small children, finding time to fit in a workout can be challenging. It's easy to get derailed from your fitness goals, but the simple solution is to bring the kids along! With childhood obesity a growing problem, it makes sense to introduce kids to some fun ways to exercise. You'll be sharing time together while you get fit as a family.
Run, rock and roll
Bring along the kids as you run, jog, walk, ride your bike or in-line skate. While you're getting in your miles the little ones can accompany you in a jogging stroller, bike seat or trailer. Older children have fun on these workouts on scooters, tricycles and bicycles, or their own skates.
Dance party
It's simple: crank up the music and dance together! Vigorous dancing gives everybody a good cardiovascular workout. Put an aerobic dance video on and follow the instructor moves while the kids have their own dance jam right along with you. Dance party workouts on systems including Xbox and Kinect have you as the controller: your moves run the action and kids love to dance along. It's a fast-paced workout to the beat of your favourite music.
Play a sport
Shoot baskets, hit tennis balls together, play kick-ball or soccer. Run some sprints together, or go to the park to throw around a frisbee and climb on the playground equipment. Calories are burning off even as you push the kids on the swings. Set up a backyard baseball diamond and practice hitting, pitching and running the bases together. Gather some extra neighborhood children for a game of flag football. Get a net so you can play backyard volleyball.
Yoga times two
Kids are agile and flexible, so teach your child a few easy yoga poses and let them work out — at their own pace — while you go through your yoga routine. Just remember to never force them into a pose. Let them mimic your moves to the best of their individual ability, then heap on the praise!
Weighty matters
Do simple bicep curls and chest presses with hand weights, and let the kids try to follow your moves... Beanbags and small blocks or partially-filled water bottles will give them just enough weight to work with, 1-2 pounds at the most. Have them count off your reps for you, so they are practising with their numbers while coaching you through your workout.
Give them a stopwatch to time you as you run up and down stairs. Jump rope and have them time you for a 5-minute period or count the number of jumps.
Go to the pool and walk back and forth in the shallow end while your toddler splashes and plays. With older kids, you'll be able to swim laps together.
More tips for healthy kids
Kids calories: how young is too young for kids to watch their weight?
Tips for mums: Healthful kids breakfast ideas
Keep inner city kids entertained