Low-Cost Family Fun
Forget expensive dinners out or movie marathons, why not give these fun game ideas a go this weekend? Cook up your kids' favourite meals and host a family game night in the living room. Easy, affordable and fun!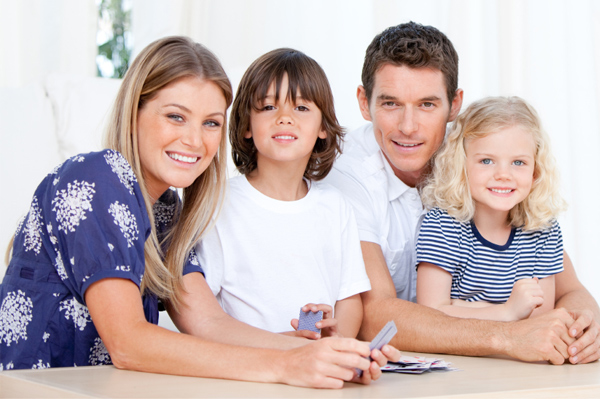 Charades
This birthday party favourite is great for kids of all ages. Split the family into two teams and each write up a batch of cards with various song, movie and book titles on them. (Alternatively, extend the pool to also include objects, sports, people and places if this will make it easier for the little ones.) One player from each team picks a card from the other team's pile and has to act out whatever is written on the card. The rest of the team has to guess what their teammate is acting out and the first team to guess wins. You can also give time limits if necessary. Start off by giving your teammates hints such as how many words the title is and from what category. This is a fun game guaranteed to encourage family bonding and a whole lot of laughs!
Celebrity heads
Write up a bunch of celebrity and character names, ranging from Aussie icons like The Wiggles to storybook favourites like the Cat in the Hat. Assign each family member a name (this works best if attached to a headband so they can't see it but the rest of the family can), then choose in which order each player has their turn. Players ask questions with yes/no answers only (don't be tempted to give extra hints!), and if they get a "yes" they can ask another question, but if they get a "no" it's the next player's turn. The winner is the person who guesses their name first!
Make-your-own snap
If the number of players in your family games night has dwindled, a game of snap could be in order. Encourage your children to get crafty and draw their own cards, then set them out on a flat surface. Taking turns, each player can turn over two cards at a time -- if they get a match, they keep those cards and try again; if they pick up two different cards it's the next person's turn. After all cards have been paired up, the winner is the person with the most matches.
Trivia
Set up your own game of trivia! This can be a standard game involving questions about storybooks, school subjects and sports (or whatever topics your children are interested in), or you can make a special personalised game with questions all about your family! This is a great way to help teach your kids about some interesting family history. Questions can be anything from, "What country was Grandpa born in?" to "What's Mum's favourite colour?" You can also give multiple-choice answers or even make it a game of True or False. This is especially fun as the kids will love hearing your wacky options and will have at least a 50 per cent choice of guessing the answers. You can also swap roles and let them write questions about themselves!
More family fun
5 Ways to entertain the kids for free
4 Weekend activities for families
Fun workouts to do with your kids