Family Fun
Stuck for fun family activities to do this weekend? Look no further than these four great ideas to get the whole family grinning!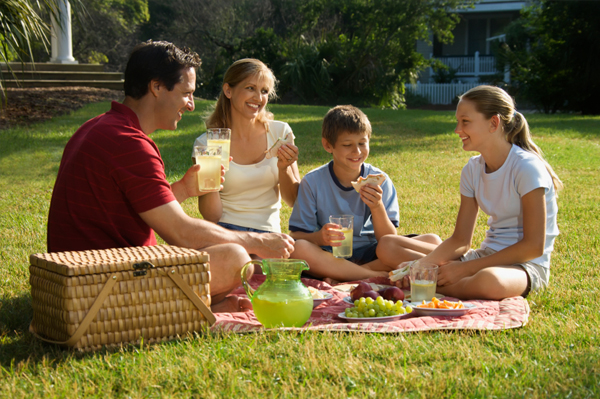 Enjoy a family picnic
Head outside into the great outdoors and spend a lazy weekend afternoon having a fun family picnic. Set up camp at the park, by the beach or even just in the back of your garden.
Spend the morning planning your menu and cooking together -- the kids will love helping you out in the kitchen with picnic favourites like salad sandwiches and choc-chip muffins. Pack a few waterbottles in the freezer and wrap them in tea towels just before you head off so they act as multi-tasking ice packs in your esky.
Spend the afternoon lazing about and chatting, kicking a soccer ball around or playing a game of cricket or beach volleyball and collect some materials from nature (e.g. leaves or flowers) for future craft projects.
Picnic packing checklist:
A large rug or a bunch of beach towels
Sunscreen
Hats for the whole family
Jumpers in case you stay late
Cutlery
Plastic cups
Plastic plates
Waterbottles
Snacks -- grapes, cheese squares and crackers
Lunch -- healthy sandwiches
Dessert -- cookies, cupcakes or muesli bars
Sports equipment
Magazines and books
Go on a roadtrip
Pack the kids and the hubby in the car and take a daytrip somewhere. As the old saying goes, it's not the destination that's important, but the journey. You could head up into the hills, take a drive along the coast or head to the city to visit a museum, science centre or gallery.
Turn off the radio and spend quality time having a sing-along or playing roadtrip games. Everyone loves a game of "I Spy" or you can read about a bunch of other great game ideas in Kids on a roadtrip.
Host a friends-and-their-folks BBQ
Encourage your kids to make crafty invitations and welcome all of their friends and parents over for a weekend BBQ at your place. It's a great way to get to know your children's schoolmates as well as their parents -- and you never know what new hobbies, weekend activity plans or car pools may rise from the get-together.
Organise a giant treasure hunt for the kids through your garden, as well as fun group games like cricket and soccer in the backyard. Fire up the BBQ and check out our Interesting BBQ side dishes.
Take up a new hobby together
Learning new skills as a family will help you to bond and give you plenty to laugh about on the way home. The whole family could take up a fun cooking class (search for kid-friendly chocolate or cupcake cooking classes online) or learn how to craft pottery, ride horses or perform magic tricks or circus acts like juggling and trapeze. Browse clubs and associations in your local area to find out what's available and choose an option that appeals to the whole family.
Alternatively, you could head off on an adventure to volunteer somewhere, like taking homeless pups for a walk at the local pound or dog rescue home. If your kids love singing or dancing, try encouraging them to put together a performance for the local nursing home.
More fun family activities
Family game night ideas
Plan a family date night
Family fun in Sydney