Tech For Tots
The toddler years are such a precious time when your child is learning so much about the world. You want to not only help educate them but also let them have plenty of opportunities for fun -- and with these great gadgets, they can have both!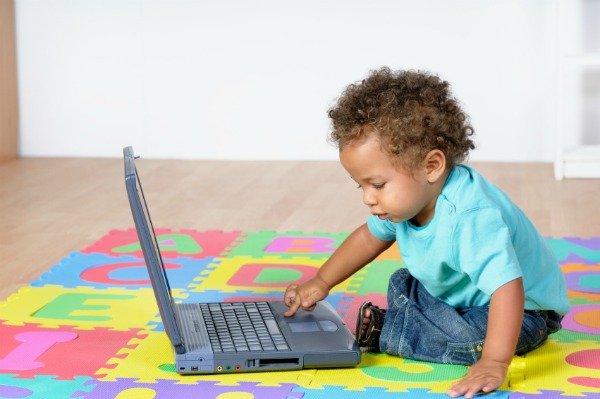 Keep your toddler happy, entertained and educated with these great gadgets under $100.
Fisher-Price Laugh and Learn Lap Top
This cute and colourful laptop is the perfect first computer for your little learner. Suitable for ages six to 18 months, it will help teach your tot about shapes, colours, counting, the alphabet, music, objects, opposites and even a bit of Spanish! It's easy for little hands to grip onto and will keep them entertained on long car trips.
Leapfrog My Own Storytime Pad
Perfect for kids from two years up, this tablet is great to get your child interested in stories, the alphabet and pretend play. They can listen to lovely stories and music, play games and even learn about emailing. If you have an internet connection, you can also personalise the device with your toddler's name, favourite songs and emails from family. It's available in violet or green.
Bruin ABC Board
Perfect for kids between the ages of two and four, this keyboard will keep them entertained with fun quizzes and activities, as well as teach them new subjects like the alphabet through the learning mode.
Fisher-Price Laugh and Learn Singin' Soccer Ball
Little tykes love pushing or kicking a ball around, and now soccer just got even more fun with this singing ball! Suitable for kids ages six months to three years, it will teach your child about colours, counting and opposites.
TOMY Talking Photo Album
Introducing you to the first ever talking photo album for bubs! This is an ideal gift for any tots who have family far away. Crinkly page tabs let your child (six months and up) flick through the pages to discover eight special photos with accompanying voice messages. Ask their grandparents to record messages for their individual photos next time they visit, and let your baby hear them over and over again with the turn of a page. The photo album also stands up so it can serve as a cute photo frame to decorate your child's bedroom.
Laugh & Learn Friend Counting Phone
This pull-along phone lets your child get involved in pretend play with realistic phone sounds and a handheld receiver. They can also create songs with the press of a few buttons and can flip the pages to see different animals and press buttons to hear their different sounds.
Bruin Learning Clock
This interactive clock features electronic lights and sounds to keep your little tot occupied, as well as music buttons to play them fun songs. A quiz mode will also help teach your child about numbers, shapes and time.
TOMY Swim n Sing Turtle
Make bathtime fun with this cute little gadget! The Swim n Sing Turtle is dressed up in an adorable swimming costume and will rotate his arms to swim through the bath, and he even hums and gargles a tune. There's also his mate Splashy the Penguin available in the same range.
More toddler tips
What to do when your child bites
Dealing with tantrums in public
How to deal with the big no!