Tweens Are Great
At Chores!
Want to know a great thing about tweens? They are more capable than we think. Helping with chores around the house is a great way for tweens to feel more connected to the family. Keep reading for five chores your tween can be doing now.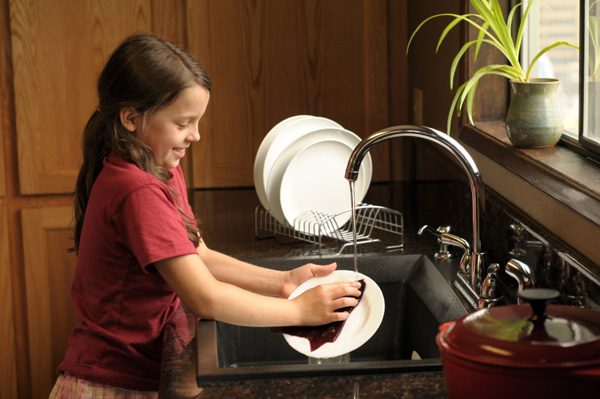 Do you feel buried in chores? Every day there are dirty dishes to be washed, meals to be prepared, laundry to be folded and pets to be cared for. Have you considered assigning your tween some of these chores? Tweens are quite capable of doing many chores around the house, and recruiting them to help you has big benefits.
Parenting expert Michele Borba Ed.D. says, "Research shows that just how important it is to involve our kids in household chores. Those household tasks such as making your bed, taking out the trash, setting the table and raking leaves actually help kids learn crucial skills they need to take care of themselves, develop responsibility, empathy, cooperation and self-reliance, as well as become better-adjusted young adults." Here are five great ways your tween can start helping you today.
Doing the dishes
Show your tween how to rinse dishes and load them into the dishwasher, then stand back and let him try. If you hand wash your dishes, offer to dry them after your tween washes. Be prepared for a few broken dishes while he learns, but soon he'll be doing it all on his own.
Caring for pets
Feeding and caring for pets is a perfect chore for your tween. Have her feed the dog and fill the water dish, and make sure she does this at around the same time each day. This adds the extra step of learning to watch the clock and be aware of deadlines.
Assistant chef
Meal preparation is a never-ending task. Why not recruit your tween as your assistant? Include them in meal planning, preparing the shopping list and in the actual preparation of the meal. Tweens can chop vegetables and onions, measure ingredients and stir food while it's cooking. An added bonus is the one-on-one time you gain with your tween.
Laundry
There always seems to be a basket of clothes or towels that need to be folded. Show your tween the way you want clothing and towels folded so she knows what's expected.
Sweeping or vacuuming
Tweens are great with a broom or vacuum cleaner. Help by moving things out of his way like chairs and small tables. Teach him how to use the attachments to reach smaller areas or vacuum stairs.
Teach your tween to help with chores, and you are helping them learn some life skills along the way.
More about parenting tweens
3 Ways to cook up some food and fun with your tween
Top 15 Halloween costumes for babies, tweens, and teens
What type of parent are you?