Best Kids Apps
To Learn And Play
As a parent, there are times when you just need your little one to have some quiet time. Maybe you're out for lunch with friends, negotiating the aisles line at the supermarket or you need to take an important call. Whatever it is, we all have those moments when a quick distraction is required, pronto! That's where these handy smartphone and iPad apps come into the picture, as they're sure to keep your kids entertained – for a little while, at least.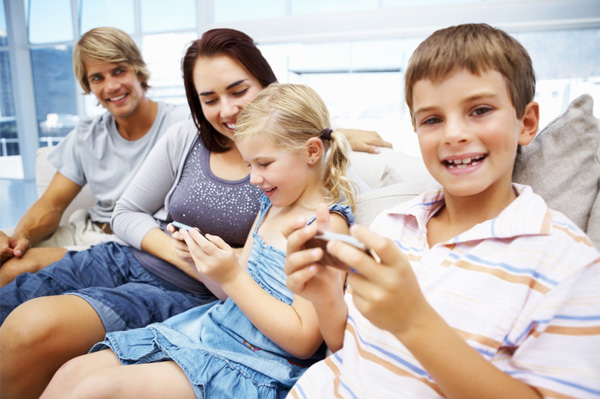 Dora The Explorer
There are many Dora The Explorer apps to keep your kid entertained for hours, from Dora's Enchanted Adventure – which reads like an animated book – to Dora's Dress Up Adventure, where kiddies can spruce up her image and dress her up like a ballet dancer, a pirate, a cowgirl… the list goes on. If it's a little boy you're trying to keep entertained, you can look to Dora's cousin, Diego, for some entertaining kids apps such as Dora and Diego's Vacation Adventure, an interactive story app featuring 40 "tappable" animations and magical stickers.
Sesame Street
Another child fave is Elmo and, yet again, the team at Sesame Street have come up with apps that suit toddlers through to pre-teens. Sesame Street The Playground charts Elmo's effort to find a lost puppy, while there are six pages your kids can "colour in" – and there's even an option to personalise the story with your own voice as the narration!
Princess Fairy Tale Maker
These princesses are far too busy to sit around waiting to be rescued by a handsome prince! Kids choose a scene and create their own character – princesses can be shaped into different sizes and races – and then go on an adventure to explore space, scuba dive and even sail the seven seas. It's extremely easy to get started, so toddlers will enjoy decorating the colouring pages with animated sparkles, while older kids will get a kick out of creating their very own fairy tale.
The Singing Alphabet
Designed to have your toddler dancing in his seat while they learn, this simple app showcases 26 friendly letters for your child to create an endless number of fun musical combinations. Once touched, each letter sings its phonetic sound in a continuous loop, which your little one can add to (to make words), or hit "Shh!" to clear and start again.
BabyFirst's Play Phone
BabyFirst's Play Phone is not only awesome, it's also absolutely free! There's a good chance that what your little one loves doing more than anything else on your phone is making calls – after all, they want to be like you! With this app they can pretend to call people by tapping the numbers, laid out on a grid like a phone pad, which announce their presence once tapped. Or flip to the second page where cute characters spring to life with sweet phrases like "peek a boo" and "clap your hands." Because it's based on the popular US-based TV channel BabyFirst, this app has strong American accents, but that's a small price to pay for the giggles (and learning!) it offers your baby or toddler.
MORE PARENTING TIPS
4 Weekend activities for families
Plan a family date night
Best apps for mums