What If Your
Child's The Bully?
Bullying is never a good situation to be involved with. It's tough enough when your child is the victim, but what do you do when your child is actually the bully? Whether it's verbal, physical, a one-off scenario or an ongoing situation, it can be mortifying and worrying as a parent. Get the right advice, right here.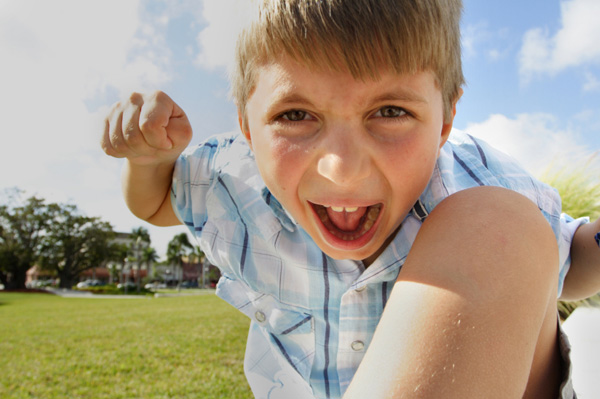 Don't point blame before hearing the details
Just as you shouldn't automatically dismiss the claims and blame the other child or the school, you also shouldn't straight away accuse your child. Refusing to listen to your child's side of the story will only send them the message that you don't trust or believe them, so it's important to ask them to explain the situation to you before you hand out punishments. And of course, never shoot the messenger. The school rep or your child's teacher is only trying to help, so responses like "they're just meddling, it's none of their business" or "we don't trust that teacher anymore" will only worsen the situation.
Gather all the information
If possible, try to hear all sides of the story -- your child's, the other kid's and any information from teachers or students who may have been witnesses. Find out if this is an ongoing occurrence or a one-off situation, and whether it was a typical case of playground arguing or outright bullying. Was it verbal teasing or a physical attack too? Was your child provoked or did it come out of nowhere? It's important to talk to your child openly and honestly to find out why they acted in the way they did.
Attempt to make amends
If your child is clearly in the wrong and has been bullying other children, the first step is acknowledging they're in the wrong and apologising to the children they have hurt. Your child needs to be held accountable and take responsibility for their actions. Speak to representatives at the school, chat with professionals and track down expert advice online to work out the best approach for your individual situation. The school may dish out their own punishments, such as giving detention or limiting fun activities like elective sports, etc. It's important you support their decision and make sure your child carries out the punishment.
You should also set your own punishment, such as grounding or curbing weekend activities or television/computer time, to send the message that bullying behaviour is unacceptable. It's important to explain to your child the reasoning behind the punishment and to help them realise the error of their ways. Speaking in terms of how it would make the other child feel and putting the bully in the victim's shoes, can be an effective way to teach empathy.
Prevent it from happening again
Next, you'll need to address the factors that may have contributed to the outburst of bullying. Was your child particularly exhausted or emotionally upset that week? Did something happen at home or with their friends that made them feel the need to lash out at another child as a way of releasing pent-up frustration or distress? Were they unsupervised and feeling neglected or bored? Was it a cry for attention? Work with your child's teachers to help solve the situation and teach your child that bullying is absolutely unacceptable.
dealing with problem behaviour
How to ease sibling rivalry
What to do when your child bites
Dealing with tantrums in public