Sweet Dreams
You expect to put up with no sleep as the mum of a newborn, but if your child is still having trouble sleeping as a toddler, give these ideas a go before frustration hits boiling point.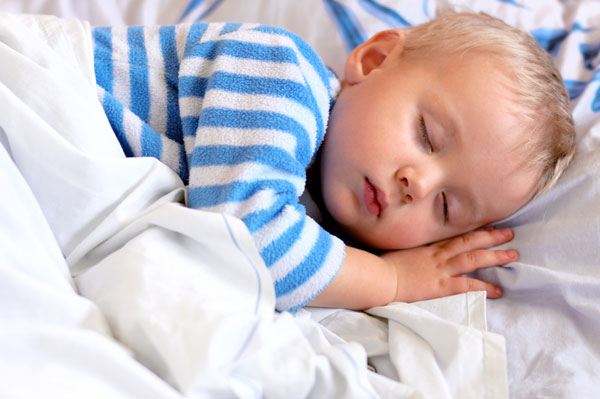 Whether your toddler is taking hours to fall asleep, waking up multiple times throughout the night or rising before the crack of dawn, it's important to establish a good sleeping routine and get them into the habit of getting a full night's sleep. A lack of sleep can have significant effects on your child, making them moody and irritable the next day, as well as having trouble concentrating and learning -- not to mention the effects it can have on you, and your relationship with your partner. Those few precious hours between putting your toddler to bed, getting the chores done and hitting the hay yourself, are vital. Often it's the only time you'll get in your day to unwind and have a one-on-one conversation with your partner. So how can you fix the problem? Try these great ideas.
Establish a clear bedtime
Toddlers are at the age where they're beginning to assert their independence and enjoy saying the word "no." Refusing to go to bed at the time you've set is a natural way for them to test their power and sway. But by establishing a clear bedtime and sending them to bed at the exact same time every night, may help them to learn that bedtime is a non-negotiable. Don't let them procrastinate and hover around their older siblings -- send a clear message that they have to be in bed by the set time or there will be consequences. Giving in to their requests to stay up for just a few minutes more will be a never-ending spiral -- stand your ground and be firm. Reassure them that they can finish whatever they were doing tonight when they wake up in the morning.
Set up a bedtime ritual
By establishing a nightly routine you'll help your child to fall into familiar habits and realise that going to bed is a given, not a choice. Whether your toddler has a warm bath before hopping into their pyjamas, you read them a book, play some calming music or you sing lullabies to them, these small acts will help your toddler to fall into a relaxing pattern and make them feel ready for bed. It's also a good idea to set up a ritual for when they wake during the night. Whether it involves a glass of water, a trip to the toilet if they're old enough, or a few pages of their favourite book, these familiar acts will help ease them back to sleep.
Stick to the routine even when you're not at home
Of course this is easier said than done, but sticking to your child's basic bedtime routine and sending them to bed at the same time each night is important -- even when you're on holidays, staying at the grandparents' house or having dinner at a friend's place. You probably know from experience that once your child breaks the routine it can be very difficult to get back into it, so try to keep it up where possible.
Anticipate requests
If your child wakes up during the night saying that they're thirsty, you may want to leave a glass of water beside their bed. If they need something to cuddle as they falls asleep (i.e. you!), give them a soft toy to hold. Try to anticipate their requests and have everything ready to avoid wasting hours at night. Of course, only agree to reasonable requests! If they're scared, tell them you'll be back to check on them in 10 minutes. Chances are, they'll be fast asleep!
Create a cosy, calming bedroom
It's important to create a cosy haven for your child, a place where they feel calm, safe and secure, so they can fall asleep without any fears. Involve them in the decorating, from choosing paint colours to putting their favourite stuffed toys on display. Set the room up with a CD player, glow-in-the-dark stickers and a night-light if it helps. If your child tends to wake really early in the morning, you could make sure some toys and games are accessible so they can play quietly before you rise.
More parenting advice
Controlled crying: How to make it work
Birthday party etiquette
10 Australian mum bloggers we love