Dealing With Loss
Losing a baby through miscarriage or stillbirth is devastating and traumatic, not only for mum and dad, but also for their extended family and friends. If someone close to you is experiencing this harrowing time, there are things you can do to offer support and let them know you care.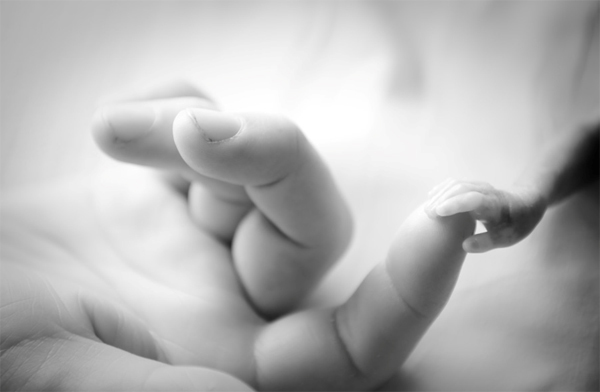 Photo of tiny hand of "Timothy" by Gavin Blue, Heartfelt.
Every single day, six babies are delivered stillborn in Australia, according to The Stillbirth Foundation Australia – and for every baby who dies of SIDS, 30 are stillborn.
These statistics are as shocking as they are heartbreaking, and as a result the subjects of stillbirths and miscarriage are often avoided because we feel uncomfortable, awkward or unsure of how to act.
Gavin Blue is the president of Heartfelt, a non-profit, volunteer-run organisation of professional photographers from all over Australia that gives the gift of photographic memories to families who experience stillbirths, premature and ill infants and children.
Unfortunately, he knows the unbearable sadness of losing a child only too well: His baby daughter Alexandra was born sleeping, which inspired him to join the charitable photography group in 2006. He is now President and is passionate about bringing awareness to his cause, which aims to "give the gift of photographic memories" to families who are experiencing such a devastating loss.
"Conversations in the public domain go a long way to removing the social taboo of the subject," he says.
"They also help families who suffer a loss of a child feel less isolated, as well as assist the friends and family of these parents know what to do to support them."
If someone close to you is experiencing the sadness of miscarriage, stillbirth or the loss of their child (or they have been through it in the past), there are things you can do to show your support.
Offer practical support
From cooking meals to cleaning the house, to assisting with childcare of their other children, there are several practical actions you can take to help out. Offering one hour of your time, once a fortnight could make all the difference on a day-to-day basis to parents who are grieving the loss of a child.

Photo of tiny foot of "Alexandra" by Gavin Blue, Heartfelt.
Acknowledge the loss
"A painful aspect of when a baby dies is that often the friends and family don't know what to do or say that will support the parents," Blue says. "Sadly what often happens is that the family and friends are so uncomfortable, they say nothing and stay away, heightening the parents' pain and feelings of isolation." 
Follow the parents' lead in regards to talking about their child. They may not be ready to open up about it yet and if that's the case, respect their silence. But don't be afraid to gently mention their child's name and gauge their reaction before proceeding; some parents like to discuss significant dates and share pictures, while other parents will want space and to be alone to grieve in private.
Donate to Heartfelt
For a donation to Heartfelt of just $40, you can help another family through the grieving process. Heartfelt is a free service offered around the country and is funded purely by members, supporters and donations.
"Through the generosity of our members and supporters, we have got the costs for each session down to $40," Blue says. A donation of any amount is gratefully accepted, as all funds will go towards helping a devastated family capture precious, life-long moments with their child. "All donations allow us to expand our service," Blue adds, "and raise awareness through hospitals, support agencies and media."
Offer support to Stillbirth Australia
The Stillbirth Foundation Australia aims to reduce the incidence of stillbirth through research and awareness. "Family, friends, work colleagues and communities can often feel helpless when they hear of a loved one that has been touched by the unimaginable sadness of losing a child," they state. "Supporting the Stillbirth Foundation Australia is a way that you can make a difference." 
Your contribution doesn't need to be financial, although a donation will help with essential research and support. You could also volunteer your time and skills (admin, writing, events or PR skills all come in handy), or donate items for them to auction off. You could also purchase items from their shop, such as the discount dining and shopping guide, The Entertainer Book.
More pregnancy and childbirth
What you need to know about premature babies
Foods you can't eat while pregnant
3 Ways to bring on childbirth