Trying to conceive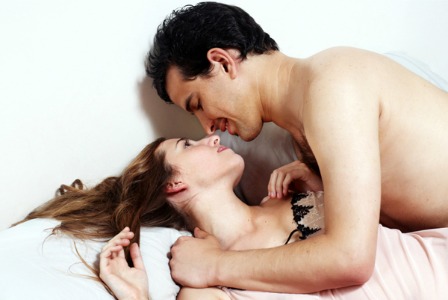 You're eating right and taking your pre-conception vitamins, now it's time to focus on what you're doing in bed to help you fall pregnant. Read on to find out which sex positions might help you conceive.
A little leg up to get that egg fertilised
There are lots of wives tales that are meant to help you conceive, however, there may be a little truth behind sex positions for getting pregnant. It's all to do with gravity and giving sperm a push in the right direction.
While there isn't much in the way of scientific research, some believe that the closer your partner can get to your cervix, the better chance his sperm has of starting the journey to your egg. Also, not to encourage handstands, but if you can aim to tilt your pelvis during and after sex, gravity will help push the sperm towards the prize.
Missionary
It is certainly thought of as the most "vanilla" sex position, but doing it missionary with him on top allows for deeper penetration to get the sperm close to the cervix. An added bonus of this style is that the woman can remain lying down after sex to ensure the sperm stays on the inside.
A little variation on this style is to place a pillow or small cushion underneath the lower back. This will tilt the pelvis during sex, which again means a little head start on the sperm flowing down and into where it needs to be. This is also a good position to get in after sex regardless of the actual sex positions you were in.
Living on the edge
If you just can't keep it missionary, you might also want to try having sex on the edge of a bed, couch or other surface that tickles your fancy. The key is to have the woman on her back, with her pelvis just on the edge and the man standing or kneeling in front of her. If you can, this is also a good position to pause at after sex.
Puppy love
Another thought is that doing it "doggie style" will allow the man to enter deeply, while the woman (on all fours) will naturally tilt her pelvis and allow for greater access to the cervix. The only trick with this position is that after sex the woman should try to get on her back and rest to ensure as much sperm as possible stays on the inside.
Spooning
The key to falling pregnant is to relax. Sometimes a more gentle style of sex in the spooning position will allow the woman to be more relaxed during and after sex. It's not the best way for deepest penetration, but it might just help ease tension. Again, the woman will want to make sure she rolls onto her back after sex.
Enjoy
Remember, the key is to remain calm, enjoy the love-making and take time out after sex to lie on your back for around 15 minutes. Some women might like to hug their knees to their chest or prop up their pelvis with a pillow after sex too.
More articles on falling pregnant
When can you get pregnant?
Complementary therapies to boost fertility
Early signs of pregnancy