Make Weaning Easier On You And Your Baby
If you have decided it's time to wean your baby from the bottle or breast to a sippy cup, it may take a few weeks or even a few months until they are completely off. Follow these tips to make weaning your baby easier on yourself and your baby.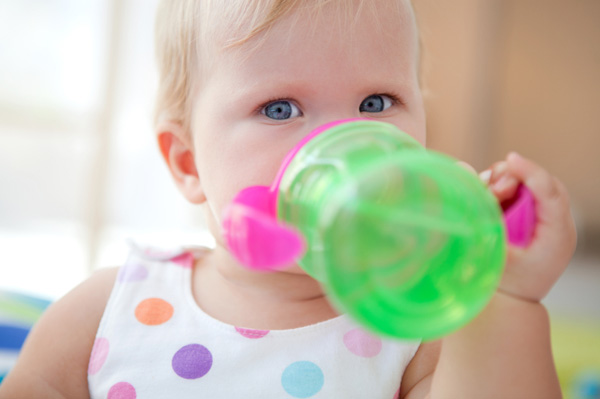 When to wean
Most babies start eating some solid foods at around 6 months old. At that point, they start getting some of their liquids from food, and thus need a little less bottle or breastmilk. However, that doesn't mean that they are ready to wean quite yet.
Keep in mind: Every baby is different. Look for signs that they're ready to wean, such as getting easily distracted while breastfeeding or showing an increasing interest in drinking from a cup.
Many mums (particularly if they are bottle feeding) start to wean their baby from formula in a bottle to cow's milk in a sippy cup at the one-year mark. If you are breastfeeding, you might choose to continue doing so for two years or well beyond that point. The time to wean is completely up to you... and your baby.
Getting started
You can ease into weaning by skipping a bottle feed/breastfeeding every few days and instead putting either breastmilk or baby formula into a sippy cup. Over a period of weeks, start offering the cup more and more often. Eventually, transition completely from breastmilk or baby formula to whole milk or whatever liquid you will be giving your child. Consider a formula made specifically for toddlers. Pfizer S-26 Gold Toddler is a nutritious vanilla milk drink for toddlers aged 12 months and up. It's formulated with the right vitamins and nutrients for their age. You can find it at supermarkets in powder or ready-made liquid form.
Try different sippy cups
All sippy cups are not created equal. If your little one is refusing the cup, try a variety with different types of spouts and handles until you find one that they like.
Follow their lead
If your baby is extremely resistant to weaning, then they just aren't ready yet. Don't make it a painful transition for both of you. Instead, wait another couple of months and try again.
Day and night
Weaning doesn't have to be an all or nothing situation at first. Consider encouraging your baby to take a sippy cup by day, and then have a bottle of just water (or breastfeed) at night.
When it comes to weaning, don't worry about what other mums are doing. Experiment with different schedules and ideas to find what works for your family.
More about babies and toddlers
What kind of stroller do you need?
How to treat colic
What's the best age gap between babies?